Mectors
After the war, thousands upon thousands of bipedal mechanized fighting vehicles (or "Bimechs") were left scattered across the land. Many were brought back to the capital cities to be repaired or scrapped, but the majority of them were too damaged to be easily transported. With the war won, the victors simply left their mechanical refuse in the battlefields to rust and wither.
Across the nations, in communities that had lost great numbers of working folk, these Bimechs replaced rudimentary tractors and mining equipment. Nobody knows who was the first to call them "Mectors", but the name caught on and spread. The war ended over a century ago, and while the world still bears its scars, it has also healed. The capital cities still skirmish from time to time, but those fights rarely extend into the farmlands and mines of the common folk.
In Mectors, players take on the role of a farmer, miner, fisher, carpenter, or some other worker in a labor intensive field. Mector Owners come from all kinds of backgrounds. Some own a Mector that's been in their family for generations. Others came across theirs recently, through purchase or luck. And a rare few have managed to piece their own together using scraps from decommissioned Mectors, but this is even harder than it sounds. No matter how they got it, they now have a powerful tool with a long history.
Supplement(s) for Mectors
Check out the free day 1 supplement created for the Coffee and Tea Jam, the Steeper Talent Tree! A new talent mechanic surrounding steeping coffees and teas with various mechanical benefits awaits in this one page document.
Into the Heartland, a Setting Primer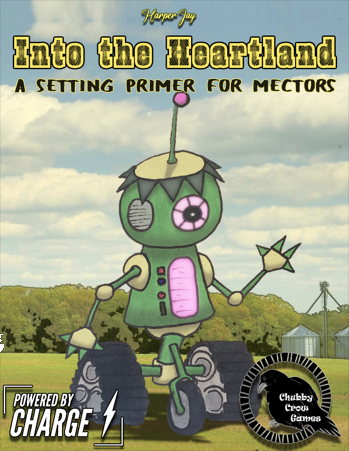 A setting primer for Mectors, with game mechanics and alternate setting removed, "Into the Heartland" gives the history of the Northern Provinces, the Trade War, and the Barter Treaty, and details a handful of locations and notable individuals to introduce you to the setting. And the best part is, it's free! You can find it under the "Demo" section below.

Tales from the Heartland
Set 100 years before the events of Mectors, Minted in Blood puts players in the middle of the Trade Wars. Play as scrappy heroes fighting against the plutocratic PTC. (Currently in development!)
Set long, long after the events of both games, As the Crow Flies is a solo journaling game about a crow leaving the nest and exploring a world that humans left beyond ages ago. See how nature, magic, spirits, and the Earth Mother have changed since humanity's disappearance.
Set at the same time as As the Crow Flies, but very, very far away from the Old World. Very much in the style of Mectors, play farmers, hullscrappers, scouts, spiriturges, and traders on a generation ship in the void between stars. Deal with spirits, fix the ship when it's damaged, and sail ever farther into the cosmos in GSXX.
-
This work is based on Charge RPG, product of Fari RPGs (https://farirpgs.com/), developed and authored by René-Pier Deshaies-Gélinas, and licensed for our use under the Creative Commons Attribution 4.0 License (https://creativecommons.org/licenses/by/4.0/)
This work is also based on Blades in the Dark (found at http://www.bladesinthedark.com/), product of One Seven Design, developed and authored by John Harper, and licensed for our use under the Creative Commons Attribution 3.0 Unported license (http://creativecommons.org/licenses/by/3.0/).
Purchase
In order to download this game you must purchase it at or above the minimum price of $5 USD. You will get access to the following files:
Community Copies
Support this game at or above a special price point to receive something exclusive.
Community Copy
In the aftermath of the OGL kerfluffle, I would like to be part in offering alternative fantasy games for people to try in an effort to help introduce people to the world of indie games.
If you're looking for something different, please feel free to grab a copy, no questions asked. If you feel so inclined, leave a review and a comment; they really help!
Download demo
Comments
Log in with itch.io to leave a comment.
🌟🌟🌟🌟🌟
I mean, Mechs, what's not to love about that, right!
I'm not gonna disagree with you there!
Thank you so much :D I hope you enjoy the read, and please let me know if you play!