As the Crow Flies
A downloadable solo journaling game
Get this solo journaling game and 5 more for $11.50 USD
View bundle
With more than 2,000 downloads, As the Crow Flies is Chubby Crow Games' most downloaded game to date!
There used to be humans here, but they all left. That's what your mama told you, and what her mama told her. The Earth Mother has begun to retake the land and bring magic back to it. Green grass and vines cover the cities the humans left behind.
You are a crow.
Take flight from your nest and explore.
Find a new home.
As the Crow Flies is an exploration game built on the Carta system that encourages you to put yourself into the feathers of a young crow leaving the nest for the first time. Befriend other animals, search for food, find interesting trinkets, and eventually settle down to create a nest of your own.
Featured on Lonely TTRPG!

Changelog
v1.2 update:
Balanced Spade Card Prompts to reduce probability of bad luck leading to a short game
Removed Spade card prompts that caused you to lose Feather Tokens, and replaced them with prompts that cause you to gain a Feather Token instead.
Tales from the Heartland
Set during the Trade Wars, Minted in Blood puts players in the middle of the conflict. Play as scrappy heroes fighting against the plutocratic PTC. (Currently in development!)
Set 100 years after the Trade Wars, play farmers, fishers, miners, and other workers using abandoned battlefield mechs to help with their daily lives. Complete jobs for your town, calm wayward spirits, and even fall in love in the pastoral post-war Mectors.
Set at the same time as As the Crow Flies, but very, very far away from the Old World. Very much in the style of Mectors, play farmers, hullscrappers, scouts, spiriturges, and traders on a generation ship in the void between stars. Deal with spirits, fix the ship when it's damaged, and sail ever farther into the cosmos in GSXX.
-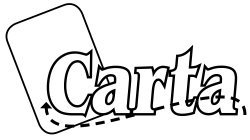 This work is based on the Carta system (found at https://peachgardengames.itch.io/carta-srd), from Cat McDonald and Peach Garden Games, and licensed for use under the Creative Commons Attribution 3.0 Unported license (http://creativecommons.org/licenses/by/3.0/).

The Carta logo is © Cat McDonald, and is used with permission.
Purchase
Get this solo journaling game and 5 more for $11.50 USD
View bundle
In order to download this solo journaling game you must purchase it at or above the minimum price of $2.50 USD. You will get access to the following files:
As the Crow Flies v1.2.pdf
9 MB
As the Crow Flies v1.2 Printer Friendly B&W.pdf
3 MB
As the Crow Flies v1.2 - Plain Text.txt
18 kB
Community Copies
Support this solo journaling game at or above a special price point to receive something exclusive.
Community Copy
Is money a hardship? Are you a member of a marginalized community? Do you just frankly not want to pay?
Please, feel free to grab a copy, no questions asked! If you like what you read, I'd love to hear your thoughts. <3 Heck, even if you don't like what you read, let me know what you think!
For every purchase of the game or 5-star rating, I will add one community copy.
Become a Crow Friend
For each purchase of $20 or more, I will add 10 community copies to the pool! And I'll add your name to the Acknowledgments page as a Crow Friend.