Substitution
Substitution 2.0 Changelog
---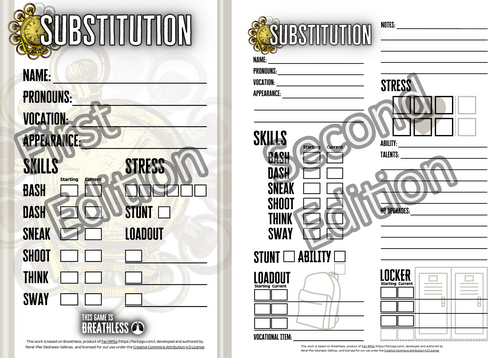 Let's get to the meat of the update!
Changelog
"GM" and "Game Master" changed to "Director".
"Take Cover" added as another way to reset skills and remove stress.
"Supplies" changed to "Rummaging"

Tweaked the rummage check table a bit.

"Locker" added.
"Flash Forward" added.
"Creating Your Substitute" section expanded with notes about pronouns and appearance.
Vocation abilities overhauled and given their own reset mechanic tied to Rest Up.

"Vocational Items" added.
"Progression" added.

24 talents added; 4 universal, and 4 for each Vocation.

"Improving Headquarters" added.

"Apocalypse When?" section added.

This section includes the history of Substitution and details about the future apocalypse.

"Random Tables" section expanded.
"Eras of Play" section added.

This section includes 3 options for eras to play in.

Each era has "Optional Rules" to distinguish it.

Upside down clocks added to fill white space and improve appearance.

Each image is credited on the page.

Drastic layout changes to accommodate new mechanics, lore, and art.
Character Sheet likewise drastically changed to accommodate new character mechanics.
Harper's Rambles
From the moment I first released Substitution, I knew that I wanted to expand on it. I knew that I wanted to add progression, and at least a bit of setting information.
Then, as I'm learning is incredibly common among indie designers, I got distracted by other projects. One new project became three became five, and while I was always making notes about upcoming Substitution changes, I couldn't finish one thing before moving on to the next.
One night, inspiration struck, and I stayed up until the wee hours of the morning typing away. Out of nowhere, I made significant progress, and decided that this was going to be something of a second edition for Substitution, taking the original single page (and character sheet) and expanding it to four. Packed with new mechanics and a detailed lore section, this is the Substitution that I had in mind all those months ago, and I'm super excited to be presenting it now!
Files
Substitution v2.0 Spreads.pdf
6 MB
Oct 09, 2022
Substitution v2.0 PNGs.zip
12 MB
Oct 09, 2022
Substitution Character Sheet.pdf
549 kB
Oct 09, 2022